"Sound healing balances and clears the mind, and leads to a renewed sense of Calm, Happiness, Well-being and Purpose."
Sound Healing
Sounds affect us in more ways than we can imagine. If the sound of a car horn in a traffic jam can frustrate you instantly, the sound of a gong in a silent room can bring your mind to peace. It is all about controlling your exposure to different kinds of sounds. When you do that, your body heals and your mind is reinvigorated. On the other hand, when you take in cacophony, it disturbs the way your body functions.
Sound Healing is one of the oldest healing methods known to humans. It is therapeutic, and it restores your Health and Well-being. At Nada Mandir, we use Himalayan Singing bowls, Tuning forks and Gongs, to create sounds in a controlled manner to heal your body.
Sound therapy is both a passive and participatory experience. The passive aspect is that you become more relaxed by laying down and slowing your breath. In this mode of stillness, you prepare yourself to become the receiver of sound.  In the participatory mode you consciously listen and focus to the subtle sounds from each Gong or Tuning fork and allow your mind to be filled with positivity. At the end of the session, you come out of the room completely refreshed, both physically or mentally.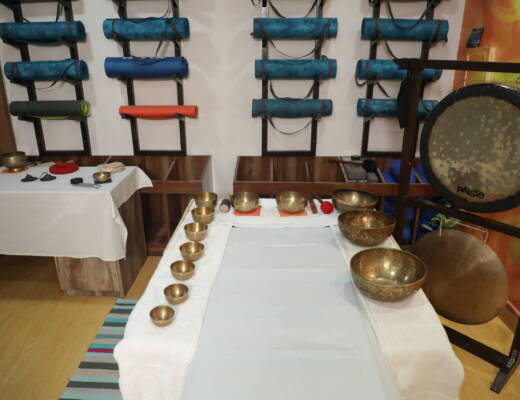 Benefits of Sound Healing
Controls Stress and Anxiety.

Helps Reduce Inflammation, which is the root cause of most diseases.

Cures Sleeping Disorders

Manages Depression

Boosts the body's Natural Healing ability

Improves the functioning of the Digestive, Circulatory, Respiratory, and Endocrine systems.

Treats Aches and Pains.

Helps fight various diseases, like Diabetes.

Improves Memory and Learning.
Reasons to Choose Sound Healing
We are not only what we eat. We are also what we listen to.
Hearing is one of our five senses, and we absorb much of our world through it. Our body is designed to be healed not only by medicine but by sounds, too. Sound Therapy is a type of relaxation protocol that allows you to enjoy the benefits of being with yourself in a quiet place.
Sound therapy sessions act as a helpful tool to slow down your agitated mind and create a balanced relationship with your inner self and the world outside.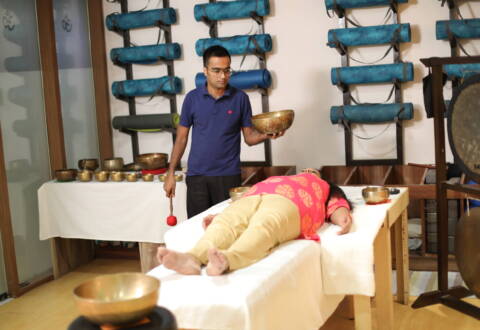 How Sound Healing Works?
What the video shows is just the use of Sound has the power to convert scattered molecules of water into a beautiful fountain. We are at least 75% water. So, if the initial scattered stage of water represents the condition, the beautiful fountain represents the state of alignment and Overall Well-being.
And the ONLY intervention here is the Sound!
At Vishuddhii, we treat you with the healing sounds of Tibetan Bowls, Gongs and Tuning Forks that can do wonders for your mind and body. This is because these sounds have a relaxing effect on the brain's motor cortex. The audio signals are delivered in a specific sequence, or protocol, which allows your brain to transition from "beta" (thinking, fast brain waves) to "theta" (dreaming, slow brain waves).
Not only do they calm your mind and soul, but they also control anxiety, cure sleeping disorders, fight various diseases and improve your Overall Well-being.
Nada Mandir at Vishuddhii
At Vishuddhii, we offer you a unique Sound Healing experience. In addition to individual Sound Healing sessions, we also have a Gong Bath, performed in a group in which we use the best quality Gongs to bring you a unique Stress Relieving experience.
We also use Special Tuning Forks which give you a deep sense of relaxation, reducing Stress significantly which can be the root cause of disease. The Tuning Forks also balance your left and right brain unleashing creativity.